The COVID-19 lockdowns were our wake-up call. Customer expectations have also changed since.
The COVID-19 pandemic caused devastating changes to the restaurant industry. It forced many establishments to shut their doors for good. If you're reading this and your shop is still around - high five my friend! 🙌
Now you must be thinking, "Aaron, the pandemic was 3 years ago! Everything is back to normal now. Why are we still talking about it?"
The thing is, it's far from over, what with new strains cropping up every other month. There was a huge surge in cases as recently as December 2022.
As a small restaurant owner, you want to show you care. Especially for the elderly and immunocompromised. What customers want from you is a high level of safety and convenience. Contactless dining meets both of these criteria.
In the past year, we've seen increased demand for online ordering. Diners have now come to expect contactless dining in this new, post-pandemic world.
If you're still hesitant to adopt new technologies like QR code table ordering... think about putting your customers first. But more than that, you don't want to lose out. As the world adapts to a new normal, contactless dining is proving to be the future of restaurant service.
The QR code is one of the most prevalent technologies used in contactless dining. Customers can use their smartphones to scan a QR code on their table to bring up the menu and place their orders.
This minimises physical contact between the staff and customers. It also speeds up the ordering process. You can serve more people at once, with fewer staff on hand.
In this article, we'll talk about:
The rise of contactless technology in F&B
QR codes make a comeback
How does contactless dining work?
How to create QR codes?
How to make the most of QR code ordering
Why it does not diminish hospitality
The rise of contactless technology in F&B
The modern consumer is more interested in speed and convenience than anything else. The days of waiting for your server to bring you the menu, take your order, then close your bill are over. It's time for you to catch up with what people want: a quick, safe way to order and pay without getting up from the table.
We now live in a world where every touch surface could be a source of infection. QR codes are an ingenious way of bypassing contact altogether. They offer an easy, touch-less way for customers to view menus, place orders, and pay for their meals.
You also want to show your staff that you care. With QR codes, they can process orders faster and with fewer errors. It also frees them up to focus on other aspects of the dining experience. This results in a more enjoyable customer experience, all while observing safety protocols.
QR codes make a comeback
QR code stands for 'quick response code'. Masahiro Hara invented it in 1994 for his company, Denso Wave, to track car manufacturing.
Over the years, it has evolved into a powerful tool for marketing and information sharing. Today, QR codes take on a whole new role in promoting contactless dining and online ordering.
The concept of contactless dining via QR codes is simple yet revolutionary. Customers can scan the code with their smartphones, access the menu, order and pay for food. All without having to touch a physical menu or interact with a server. The benefits are two-fold:
minimises risk of spreading any illness
saves time for both the customers and the restaurant
Other uses of QR codes by restaurants:
questionnaires
promotional offers
loyalty programmes
request for reviews and testimonials
One of the smartest things we've seen is using QR to get valuable customer feedback. Doing this guarantees their privacy and anonymity. This used to be a tedious process in the days of filling out paper questionnaires or making phone calls. You can then use this data later on down the road for marketing purposes.
How does contactless dining work?
I'm so very glad you asked! In my humble opinion, a contactless dining solution should do two things well. ORDERING and PAYMENT.
❌ There are many solutions out there that only let you view a menu, but you cannot place orders on it. It's not interactive, so it's as good (or as bad, rather) as a PDF menu. 
❌ Some solutions let you view and place orders, but there is no way to pay other than going to the cashier's counter.
✅ Use a solution like Maynuu that lets your customer order AND pay without getting up from their table. Spoil them! :)
So, let's break down exactly what happens in a restaurant that has QR code table ordering. (If you already know how QR ordering works, skip to the next section.)
1. When a customer enters a restaurant that offers contactless dining, they can find a QR code on the table.
This is usually in the form of a physical placard or sticker. (We caution against using stickers - they tend to fade and rub off, and you don't want the glue to ruin your furniture. Placards are more attractive, and easier to update and replace.)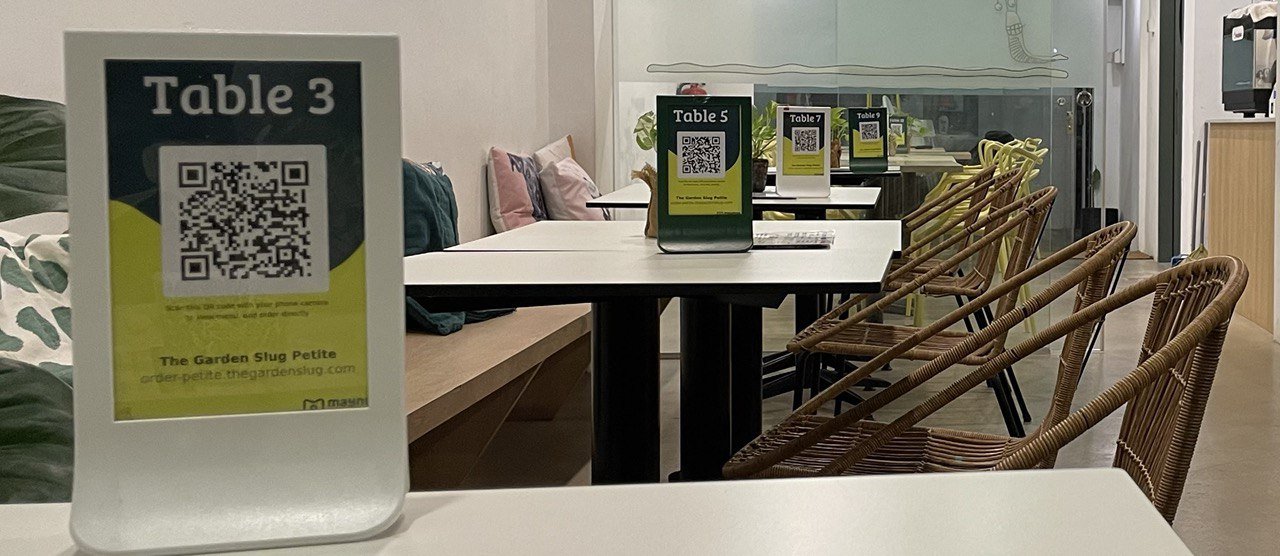 2. Diners scan the code using their smartphones.
They do this by opening their phone's default Camera app and pointing it at the QR code. They should see a button that says "Open in web browser". Tapping on that button will link the diner to the restaurant's digital menu.
If the Camera app doesn't work, try using a web-based QR code reader like QRStuff.com.
3. Diners place their orders through the digital menu, and pay online as well.
Once the customer submits the order, it appears on the restaurant's application dashboard. Orders are usually accepted by a staff manning the front-of-house counter. You can also hook up extra devices or printers, and send the orders to the kitchen and bar.
4. Staff prepare the food and drinks.
Your customers receive their orders within minutes.
If the customer needs to request something else, they can scan the QR code again and add more orders. This eliminates the need for physical menus and payment terminals. The entire experience is seamless.
How to create QR codes?
You can create QR codes using free tools like QRCode Monkey. It's a tool that lets you add colours and your restaurant logo to the codes you want to generate.
Maynuu has an easy QR code generator built in to our system. You can download the plain QR code and add it to your own design template. Or use our ready-made, printable design. It's in the perfect A5 placard size (148mm x 210mm / 5.83in x 8.27in) and already includes your business name and logo.
How to make the most of QR code ordering
Make it fast
Let's face the facts: it's getting more and more difficult to hire good staff. Even your most athletic waiter can't be everywhere all at once. But you know what can? A QR code menu.
This means your customers don't have to wait around for the server to bring them the menu, or take their orders. Diners can also order at their own pace, without feeling rushed or pressured. This works out for everyone even when the restaurant is at its busiest!
Your staff saves time too, by not having to wait around for indecisive guests to make up their minds. They can focus on other important tasks.
The faster people can place orders themselves, the faster you can turn over the tables.
Make it simple
Since the dawn of time, humans have always favoured taking the easy way out. You can't lose by making your customers' life simple. Contactless dining does more than simplify things for your diners. It makes order management even simpler for you, too.
What can go wrong? Hardly anything.
You minimise mistakes. You ensure accuracy in every order.
Make it safe
They say any publicity is good publicity. But you know what you do not want? You don't want to appear in the news as the source of the latest outbreak.
You want to reduce as many high-touch points as possible.
QR code table ordering makes the process safe for both parties. No need for pens, paper order chits and receipts (save the trees!). No swiping or inserting anything into a machine to pay.
Why it does not diminish hospitality
There's a misconception that contactless dining has completely removed human interaction. Unless you've replaced your entire crew with robots, this is an utter fallacy.
QR code ordering does not replace the human element. All it does is remove all the waiting in-between seating and order taking and bill closing. The staff are still there to answer questions and banter with customers. 
As a matter of fact, this enhances hospitality. Interactions between your staff and guests are now more purposeful and meaningful.
More efficient service also means less waiting around. This is always good news for hangry diners!
Some ordering systems may also have a history of your guests' orders. You can use this to personalise their orders for future visits. Thereby creating a more enjoyable experience, and increasing customer loyalty.
You can also put the focus back on the food, rather than always doing busy work.
It's a delicate balance, but it's nothing that a seasoned restaurateur like you can't handle.
Conclusion
The pandemic forced the restaurant industry to rethink its approach to dine-in service. The adoption of contactless systems has been one of the most positive developments to come out of it. 
QR ordering offers convenience, efficiency, and safety. 
It makes the dining experience better on the whole, for both the restaurant and its guests alike.
---
We use the term 'restaurant' throughout the article for consistency. However this guide can be generally applied to any type of food shop, including but not limited to: bakeries, bars, bistrots, boulangeries, butcheries, cafés, caterers, coffeeshops, delis, diners, eateries, food trucks, patisseries, pubs, etc.